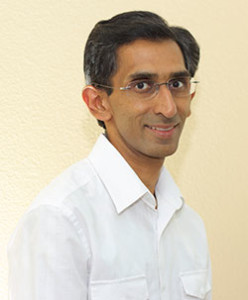 Rajiv Patel, BDS, DDS
Diplomate American Board of Endodontics
The journey began in a small suburb of Mumbai, India, the city which never sleeps with a population of over 21 million today. I was born in India and immigrated to America in the year 2000. After receiving a warm big Texas style welcome in Dallas,Texas, I have returned back home after a break to pursue advanced education in sunny California at the University of Southern California, Los Angeles. I had the opportunity to become a Trojan twice with a Doctor in Dental Surgery (DDS) and also a certificate in Endodontics. I graduated with honors and an induction into Omicron Kappa Epsilon, the national dental honor society. As a part-time clinical instructor at USC, School of Dentistry in the Urgent Care Center gave me an opportunity to train dental students in the diagnosis, management and treatment of patients presenting with dental pain.
Being a dentist for 20 years has allowed me the opportunity to enjoy all aspects of dentistry and pursue one of my long term passions which is Endodontics. The precision and advances in the diagnosis and treatment of root canal related conditions had always excited me and continues to do so everyday. Along this journey I was fortunate to have some small and big milestones.
One such big milestone was to be the first Board Certified Endodontist in the Flower Mound area, the highest honor in endodontics awarded by The American Board of Endodontics.
I am a fellow and founding member of The International Academy of Endodontics, faculty at International Endodontic Institute and in addition I am active member of various other specialist organizations. I have the privilege to serve on the advisory board of the DFW dental study club which is an affiliate of the prestigious Seattle study club.
Over the years I have published clinical papers on topics in endodontics and have won several awards for presentations at state and national levels. I have presented at a number of conferences both locally and nationally.
My accomplishments are hollow without the love and support of my friends, family and most importantly my patients! I enjoy the interaction with my patients and accept the challenge of alleviating fears associated with the thought of having a root canal procedure.
My special clinical interests are – 3D imaging in diagnosis and treatment in dentistry, management of dental trauma and challenging variations in root canal anatomy.
My wife and I have two beautiful daughters and call Lantana home. In my spare time,I enjoy spending time with my family and friends, dancing with my daughters, new age music, reading, entertaining and I plan to learn some golf.